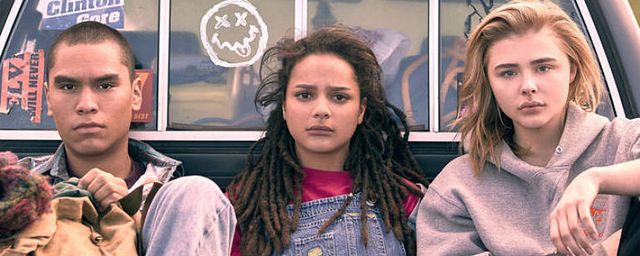 Ahora que estamos a punto de dejar atrás noviembre y casi el año cinematográfico, son muchos los que ponen la vista en lo que promete 2018, más ahora que el Festival de Sundance, una de las principales mecas del cine indie americano, ha hecho público su programa para la próxima edición del certamen, que se celebrará del 18 al 28 de enero. Entre los principales nombres propios de la selección, encontramos a Gus Van Sant (Don't Worry, He Won't Get Far on Foot), Daisy Ridley (Ophelia) y Robert Pattinson, Chloë Grace Moretz o Laura Dern con sus nuevos proyectos.
Entre las películas elegidas para la sección Premiere, el perfil más alto de la selección, está también Beirut, de Brad Anderson, protagonizada por Jon Hamm y Rosamund Pike; The Catcher Was a Spy, de Ben Lewin con Paul Rudd; o Damsel, de Nathan Zellner y con Robert Pattinson y Mia Wasikowska.
En la competición de ficción estadounidense, destacan The Kindergarten Teacher, con Maggie Gyllenhaal; Lizzie, con Chloë Sevigny; The Miseducation of Cameron Post, de Desiree Akhavan y con Chloë Grace Moretz; The Tale, con Laura Dern; Wildlife, con Carey Mulligan; o I Think We're Alone Now, de Reed Morano (The Handmaid's Tale), y con Peter Dinklage y Elle Fanning.
Sundance es uno de los festivales más importantes del circuito. La ganadora del año pasado, El Cairo confidencial, recién se llevó premios en la Seminci de Valladolid, mientras que Francis Lee, que fue premiado también el año pasado en ese certamen por Tierra de dios, acaba de estrenar su película en nuestro país.
A continuación os detallamos la programación principal de Sundance 2018:
Ficción USA:

-American Animals, de Bart Layton, con Evan Peters, Barry Keoghan, Blake Jenner, Jared Abrahamson, Ann Dowd, Udo Kier.
-Blaze, de Ethan Hawke, con Benjamin Dickey, Alia Shawkat, Josh Hamilton, Charlie Sexton.
-Blindspotting, de Carlos Lopez Estrada, con Daveed Diggs, Rafael Casal, Janina Gavankar, Jasmine Cephas Jones.
-Burden, de Andrew Heckler, con Garrett Hedlund, Forest Whitaker, Andrea Riseborough, Tom Wilkinson, Usher Raymond.
-Eighth Grade, de Bo Burnham, con Elsie Fisher, Josh Hamilton.
-I Think We're Alone Now, de Reed Morano, con Peter Dinklage, Elle Fanning.
-The Kindergarten Teacher, de Sara Colangelo, con Maggie Gyllenhaal, Parker Sevak, Rosa Salazar, Anna Barynishikov, Michael Chernus, Gael Garcia Bernal.
-Lizzie, de Craig William Macneill, con Chloë Sevigny, Kristen Stewart, Jamey Sheridan, Fiona Shaw, Kim Dickens, Denis O'Hare.
-The Miseducation of Cameron Post, de Desiree Akhavan, con Chloë Grace Moretz, Sasha Lane, Forrest Goodluck, John Gallagher Jr., Jennifer Ehle.
-Monster, de Anthony Mandler, con Kelvin Harrison Jr., Jeffrey Wright, Jennifer Hudson, Rakim Mayers, Jennifer Ehle, Tim Blake Nelson.
-Monsters and Men, de Reinaldo Marcus Green, con John David Washington, Anthony Ramos, Kelvin Harrison Jr., Chanté Adams, Nicole Beharie, Rob Morgan.
-Nancy, de Christina Choe, con Andrea Riseborough, J. Smith-Cameron, Steve Buscemi, Ann Dowd, John Leguizamo.
-Sorry to Bother You, de Boots Riley, con Lakeith Stanfield, Tessa Thompson, Steven Yeun, Jermaine Fowler, Armie Hammer, Omari Hardwicke.
-The Tale, de Jennifer Fox, con Laura Dern, Isabel Nelisse, Jason Ritter, Elizabeth Debicki, Ellen Burstyn, Common.
-Tyrel, de Sebastián Silva, con Jason Mitchell, Christopher Abbott, Michael Cera, Caleb Landry Jones, Ann Dowd.
-Wildlife, de Paul Dano, con Carey Mulligan, Ed Oxenbould, Bill Camp, Jake Gyllenhaal.
Documentales USA
-Bisbee '17, de Robert Greene
-Crime + Punishment, de Stephen Maing
-Dark Money, de Kimberly Reed
-The Devil We Know, de Stephanie Soechtig
-Hal, de Amy Scott
-Hale County This Morning, This Evening, de RaMell Ross
-Inventing Tomorrow, de  Laura Nix
-Kailash, de Derek Doneen
-Kusama – Infinity, de Heather Lenz
-The Last Race, de Michael Dweck
-Minding the Gap, de Bing Liu
-On Her Shoulders, de Alexandria Bombach
-The Price of Everything, de Nathaniel Kahn
-Seeing Allred, de Sophie Sartain y Roberta Grossman
-The Sentence, de Rudy Valdez
-Three Identical Strangers, de Tim Wardle
World Cinema (Ficción)
-And Breathe Normally, de Ísold Uggadóttir
-Butterflies, de Tolga Karaçelik
-Dead Pigs, de Cathy Yan
-The Guilty, de Gustav Möller
–Holiday, de Isabella Eklöf
-Loveling, de Gustavo Pizzi
-Pity, de Babis Makridi
–La reina del miedo, de Valeria Bertuccelli y Fabiana Tiscornia
-Rust, de Aly Muritiba
-Time Share (Tiempo Compartido), de Sebastián Hofmann
-Un traductor, de Rodrigo Barriuso y Sebastián Barriuso
-Yardie, de Idris Elba
World Cinema (Documental)
-A Polar Year, de Samuel Collardey
-Anote's Ark, de Matthieu Rytz
-The Cleaners, de Moritz Riesewieck y Hans Block
-Genesis 2.0, de Christian Frei y Maxim Arbugaev
-MATANGI / MAYA / M.I.A., de Stephen Loveridge
-Of Fathers and Sons, de Talal Derki
-The Oslo Diaries , de Mor Loushy y Daniel Sivan
-Our New President, de Maxim Pozdorovkin
-Shirkers, de Sandi Tan
-This is Home, de Alexandra Shiva
-Westwood, de Lorna Tucker
-A Woman Captured, de Bernadett Tuza-Ritter
Premieres
-Beirut, de Brad Anderson
-The Catcher Was a Spy, de Ben Lewin
-Colette, de Wash Westmoreland
-Come Sunday, de Joshua Marston
-Damsel, de David Zellner y Nathan Zellner
-Don't Worry, He Won't Get Far On Foot, de Gus Van Sant
-Futile and Stupid Gesture, de David Wain
-The Happy Prince, de Rupert Everett
-Hearts Beat Loud , de Brett Haley
-Juliet, Naked, de Jesse Peretz
–A Kid Like Jake, de Silas Howard
-Ophelia, de Claire McCarthy
-Puzzle, de Marc Turtletaub
-Untitled Debra Granik Project, de Debra Granik
-What They Had, de Elizabeth Chomko